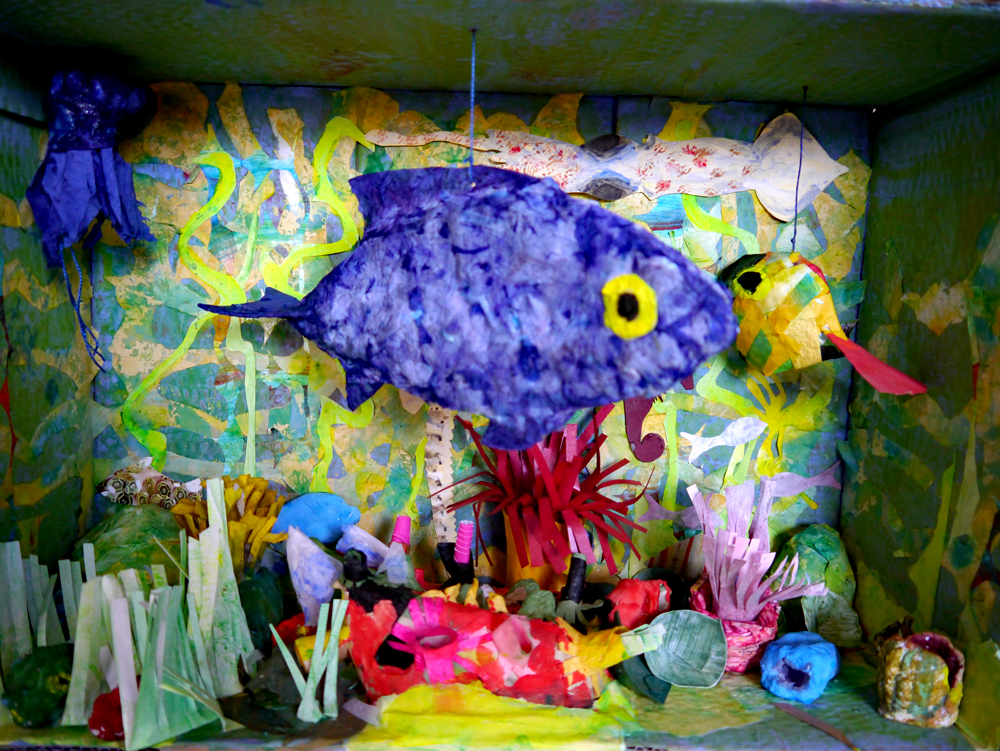 Art projects, workshops and classes are tailored to groups, schools or individuals. All workshops use a limited pallet of sustainable and environmentally friendly materials that are waterway and people safe. The way the workshops are conducted are through exploration research and play. Learn how mistakes are your best friend.
Over the past ten years I have explored, researched, studied environmental art practice. Some questions to ask are: Are the materials environmentally sustainable? Have they caused harm to the environment? Are they toxic? Is there modern slavery involved in the manufacture? Are they waterway safe?
Workshop category – it can be a mixture or a focus on a specific area:
. Drawing,
. Painting,
. 3D creations,
. Bookbinding,
. Dioramas,
. Crankies,
. Puppetry,
. Papier Mache,
. Paper pulp
. Make your own paint,
. Interactive installations,
. Opaque watercolour on Cotton technique,
. Portfolio development (to assist your chances into higher education) and
. Artist to artist mentoring (curatorial , promotion, grant writing and installation assistance.)
During COVID 19 is provided online through Zoom. To find out more send a line through the form below or ring +61 (0)408978747 Please state your name and purpose.
Scroll below to find self paced free workshops. Tell me how it went. 🙂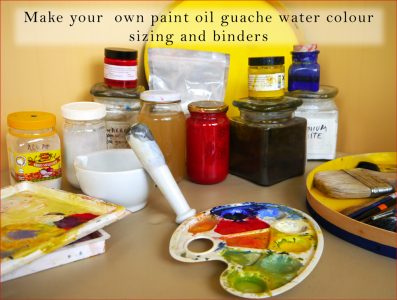 Imagination in the kitchen – the democratizing of art practice.
Art creation is often running down to the two-dollar shop, Officeworks, or Art specialty shops. What you will discover is, a lot of the materials are made from petroleum products such as acrylic paints glues and tapes; these materials find themselves eventually in our water ways and tips. For example, the innocent act of rinsing your brushes. Or you throw out dried acrylic paint. Even factory made oil paints have fillers and not so savory ingredients. Then there is the question of pigments. A lot of pigments are toxic.
You may have learnt to go into a supermarket and select your food through a series of questions. What are the food kilometers? What is it wrapped in? How much sugar salt 220? And so on.
A lot of art supplies can be found in the kitchen
Food colouring, flour, gelatin, eucalyptus oil, sunflower oil, honey, sugar, salt, eggs, calcium carbonate, wattle sap, recycled papers, news papers, home office paper and cardboards (cardboard food boxes ie tea etc), postal paper parcel papers, sticks, skewers, cotton, cotton thread, sewing needles, bees wax candles (or wax around cheese) – hunt through your cupboards and explore. Dinner might be a bit late 😊
Links to free self-paced art sessions (note: they all open in new window if you get lost close link window)
Crankies are simple moving panoramas and used widely in folk art in America: https://fernartz.com/news/page/3/ – and https://fernartz.com/a-crankie-a-day-keeps-the-stories-at-bay/
3d penguins https://fernartz.com/art-facilitation-3-29-03-2020/
Make your own paint https://fernartz.com/make-your-own-paint/
Vegetable dye paint – https://fernartz.com/vegetable-dye-paint/
Modelling clay https://fernartz.com/modeling-clay-animation-dough/
Puppet head https://fernartz.com/art-facilitation-2-28-3-2020/
Paper pulp https://fernartz.com/paper-pulp/
Puppet making with coat hanger https://fernartz.com/puppet-making/
Shadow puppets: https://fernartz.com/shadow-puppets/
Glue: https://fernartz.com/homemade-archival-glue/
How to make dyes and tints https://fernartz.com/how-to-make-dyes-and-stains-for-artworks/
More on Fern Smith continue to Fern Smith art projects.
Start a conversation here for imagining your art creation project :