Art Projects and Collaborations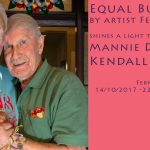 'equal but not' (2016 – ) art project by artist Fern Smith shines a light on GLBTI (Gay, Lesbian, Bisexual, Transgender, Intersex) inequality in Australia.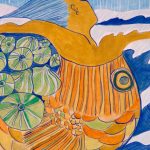 Tides turn (2015 -2016) (Collaboration): Artists Kirsten Wolf and Fern Smith are  presenting a selection of artworks 'tides turn' that is a queer take on mermaids.
Mermaids (1990's  ongoing): Smith sees mermaids as the hidden folklore story relating to all facets of life from death, love, strength, gender politics and the environment.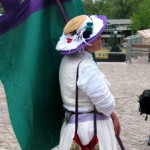 Art of Suff-Rage (2008)(Collaboration): This partnership with artist Ursula Dutckiewicz  explored and celebrated the Centenary of Women's Suffrage in Victoria.
Banner project (2008):  The Banner project represents the issues women have fought for equality over the last century.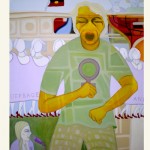 Moving landscape (2008): This work was a representation of the journey women in Victoria had to democracy and is one painting comprised of 10 panels.  Each panel represents a decade of suffrage from 1901 to 2008.
Conversations (2008)(Collaboration): The focus of conversations was to bring local communities together to discuss equality, social and cultural issues impacting women in Victoria. This partnership delivered three conversation events in St Kilda, South Melbourne, Brunswick and open day at State Parliament 2008.
Reflections and Celebration (2007)(Collaboration): Fern prepared and delivered a course at RMIT University in the Industrial Design Deputy Dean Soumitri Varajdarjan.  The aim of the course was to support young people to explore and celebrate feminism and women in leadership. The outcome of the project was 30 handcrafted books, e-books of the interviews and presentation of their publications.
dis-EASE HCV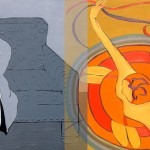 (2004-2005): The aim of the exhibition was to highlight that the Hepatitis C disease cuts across all ages, all populations.
waiting

(2000-02): This exhibition explores the issues surrounding women and their dreams by using the 'metaphor' of women waiting at tram stops.  This exhibition was researched by looking at women's status within the community in regard to equality and if there status had changed from a decade before.
Mail to: FernArtz
Director Fern Smith
23a Lorensen Ave
North Coburg VIC.
Australia 3058
Mobile: +61 408978747