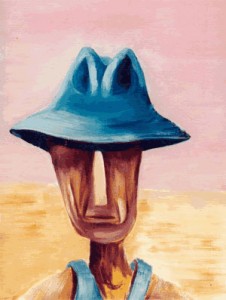 Gray Smith (father) (1919-1990) lived with Epilepsy, he suffered through 'grand mal' seizures through his mid-teens. Epilepsy formed and toned his life; he no longer perceived control and destiny over his life. Epilepsy controlled him. He became an observer of 'man'. A man outside, silently forbidden to become the socially constructed 'Aussie bloke'. Gray through his isolation of self and personal rejection brought on through the illness as a result he developed a strong sense of irony familiar in his artwork and poetry.
Artwork produced throughout the 1950's evolved the romanticised 'Aussie bloke'. This man too, was isolated and at odds with the landscape. The theme of isolation and dislocation from either landscape or society was a reoccurring theme and developed many forms throughout his life.
1935: Apprenticed to an Optician – learnt fine metalwork which assisted in jewellery he made.
1939: Timber Cutter and worked at Mt. Buffalo to build a house
1942/3 – 45: Studied with Max Meldrum
1945 – 1950: Exhibited in group shows with Contemporary Art Society in Melbourne (CAS)
1946: First daughter born
1948 – 1960: Lived with Joy Hester (married 1959) and formed a strong professional relationship as artists where they consolidated their  own unique style placing them in the contemporary art scene in Melbourne with fellow artists such as Sydney Nolan, the Boyd family, Mirka Mora, John percival and many others.
1951: 1st son born, Peregrine Smith
1955: Published works in Ern Malley's Journal
1954: Second daughter born Fern
1956: First solo exhibition at Gallery Modern Art Melbourne
1957: Painting presented to the Museum of Modern Art in New York.
1958: Solo exhibition Gallery of Contemporary Art – opened by Vance Palmer
1960: Joy Smith (Hester) dies August
1961: Settled in Canberra with Joan Upward (nee Davis) with her two children Brett and Matthew, and Grays children; Fern and Peregrine. Their thirteen year (1960-1973) union sees; Joan and Gray forge a strong bond through the research of local history where Gray produces his largest body of artworks which receives National acclaim. This is evidenced in articles in newsprint, producing artwork for an ABC TV documentary on Daisy Bates and being sponsored to live and exhibit in Paris.
1962: Group exhibition with artwork and jewellery by Gray at Studio Nundah Canberra
1964: Art teacher for the severely physically disabled children (up to age of 23) at Canberra Hospital,
Won the Helena Rubinstein Portrait Prize Portrait of Lady (Molly) Huxley at David Jones Gallery ACT
Back-o-Bourke series Gallery A
Third daughter born, Sheenagh Smith
1965: Outback solo exhibition at Leveson Street Gallery Nth Melbourne
1966: Joint exhibition with John Percival Theatre Gallery Canberra
The Canberry Paintings The First Hundred Years present by Arts Council of Canberra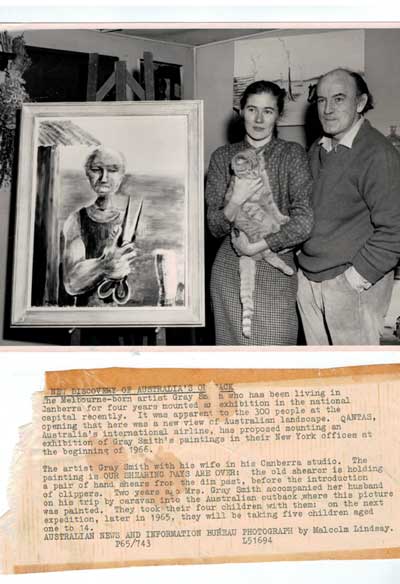 1967: Preview exhibition at the residence of Henri Souillac Cultural Counsellor of France
Artworks published in Tales and Legends of Canberra Pioneers dairy of Samuel Shumack (artworks sourced from The Canberry
Paintings) published by Canberra University Press
1968: Joint exhibition with Arthur Wicks at International Cite Des Arts and Qantas Paris and residency at Cite Des Arts
Eurimburra Legend Sculpture Gallery
1969: The ANU Arts Society Acquisition exhibition of Gray Smith's paintings Union Building ANU opened by Dr. B. E Kent
Directed the Mural on YWCA building (now demolished) by the art students the now Canberra School of Art
1969 – 71: Teacher at the now Canberra School of Art
1970: Captain Cook Series
1971: Daisy Bates Series for the ABC broadcasting commission The Daisy Bates series was researched and developed by Professor Tulip
1971 – 72: Art Critic for the Canberra Times
1972/3: Gray and Joan Smith separate.
1975: Solo exhibition at Solander Galleries arranged by Joan Davis (nee Smith)
1976 – 1990: Due to ill health Gray continued to paint however never exhibited.
1990: 7 August dies aged 70.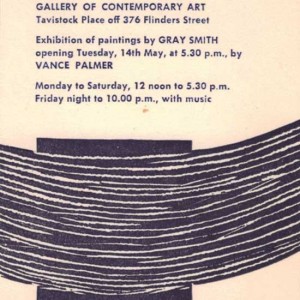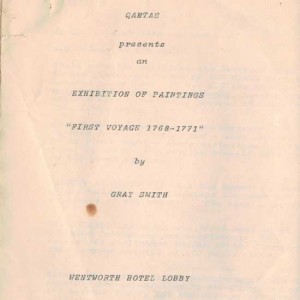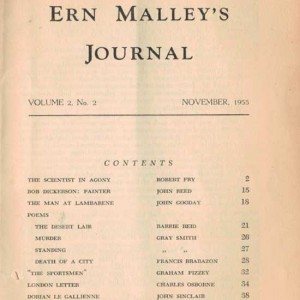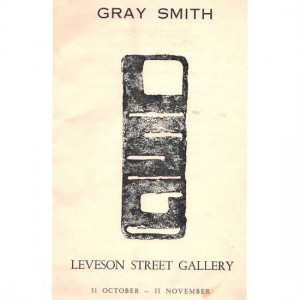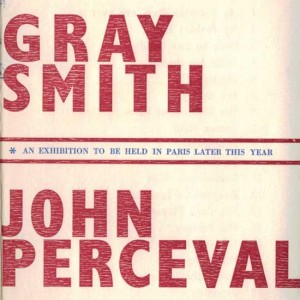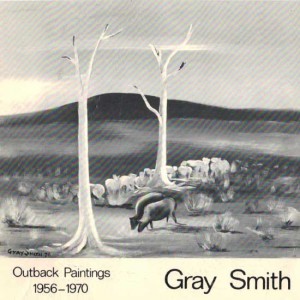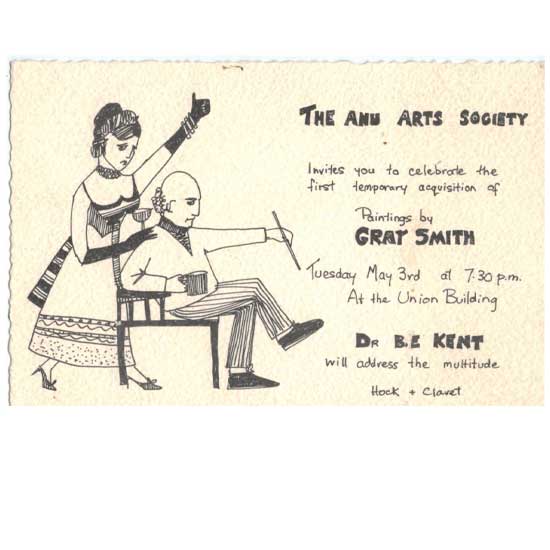 Source: State Library of Victoria – Australian Manuscripts, Tapes collected 1993-5 Smith Estate,  Joy Hester page 4
To seek more information on the artist Gray Smith make enquiries at:
State Library of Victoria
Heide MoMA
National Library of Australia
National Gallery of Australia
National Gallery of Victoria
If you know or would like to contribute any information the family would greatly appreciate it.
Postal:
Gray Smith estate
c/- Fern Smith
23a Lorensen Ave
Merlynston
Coburg North
Victoria Australia 3058
All pages copyrighted.  For release permissions  goto:  https://www.copyright.com.au